Details
Overview
Snapdeal presents all new classy Nokia 105, a superb, in budget, feature phone. The Dimensions may look deceptive as the phone posses some real good characteristics with it. This single SIM enables phone comes with 3.6 CM TFT Screen and Nokia's patented Symbian Operating System just to make you real comfortable with enhanced user friendliness. The 8 MB internal memory gives ample amount of space to all your required resources. It also comes with some ready to use Apps such as Speaking Clock, Calculator and Nokia Life Tools which give access to Healthcare, education and many more things. Equipped with 800 mAh battery, it performs like an elephant viz, 840 hours of stand-by time and 12 and half hours of talktime, what else a customer needs from a battery. It also gives a personal touch of fun and joy with FM and Pre Loaded Games (Sudoku/Cricket Cup).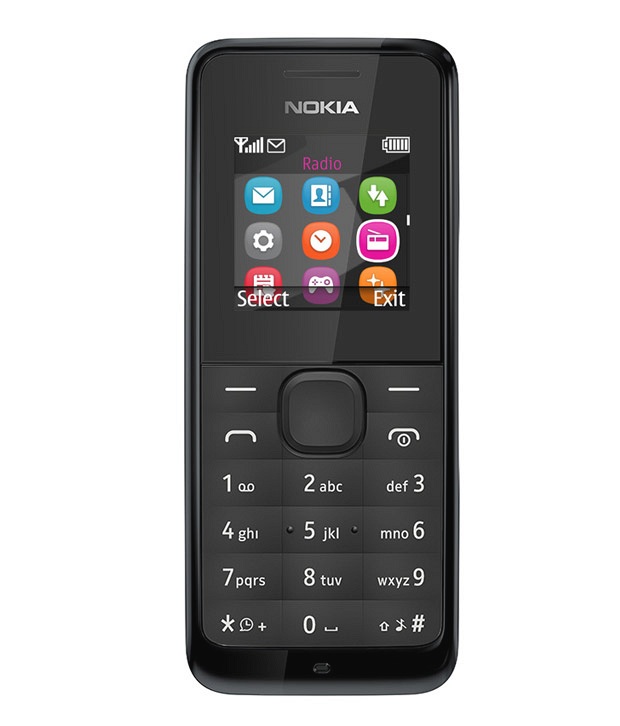 Dual SIM Support
The phone comes in Single GSM SIM Slot (Micro SIM).
Screen Size
The easy and effortless design gets enhanced by its 1.4-inch LCD Transmissive colour screen. It comes with a resolution of 128X128 Pixels with RGB-stripe HighColor (16-bit/64k) colours. It really makes easy to read and write while texting and reading contact names.
Operating System
The phone runs on Nokia's Legacy- Symbian (Series 30 Operating System)

Connectivity Options
This feature phone is equipped with sufficient connectivity options (GSM network 1800 MHz, 900 MHz/ AV connectors: 3.5 mm Audio Connector and enables you to use the phone optimum.
Memory Capacity
It has an 8 MB Internal memory-ample amount of storage capacity that lets you store number of your favourite songs so that you can your soul moments with joy and happiness.
Battery Performance
The magic of this phone comes alive when the 800 mAh BL-5CB removable battery gets fully charged. It gives a talk time of 12.5 Hours and a Stand by Time of 35 Days. So what else do you need while on a long weekend and hiking on a rough land, and there is also no need to worry about conserving the battery by cutting your calls short either.
Additional Features
Nokia 105 is full of surprises. It has Speaking Clock to wake you up, Built in- Flash to enlighten you in dark, FM Radio to Cheer you up, Preloaded games to cut boring times and some built in features like Digital Clock, Calculator, Calendar, Converter and Expense Manager.
Colour Variants
Available in Black and Cyan colour, the phone deals in a dust-proof and splash-proof keypad which is tough enough to give a glair to the 107 x 44.8 mm body.
What's In the Box
· Mobile Phone.
· Battery
· Charger
· Nokia connectivity cable CA-101,
· User Manual
· Warranty Card
About Nokia
Nokia, now being owned and developed by Windows Phone is a legacy in itself as brand. Windows Phone has become the primary smartphone operating-system for Nokia, replacing Symbian.. The first Nokia Lumia Windows Phones, the Lumia 800 and Lumia 710, were announced in October 2011 at Nokia World 2011. Nokia's hardware division is now a subsidiary of Microsoft Corporation. Operating under the name Microsoft Mobile.
Product Tags
Custom Tab 1
Fastest Default - Product Custom Tab 1
Custom Tab 2
Fastest Default - Product Custom Tab 2